Guide to Buying a Park Home or Lodge For Your Own Private Land
Posted by admin on 10 June 2020 12:00:00
For customers lucky enough to own your own piece of land we can still help. Buying a park home or lodge for your own private land is a great way to marry up your perfect home and your perfect location. When purchasing a home/lodge for your own land there are things you will have to consider logistically and financially, which is why we've created this helpful guide to talk you through it.
CONTENTS: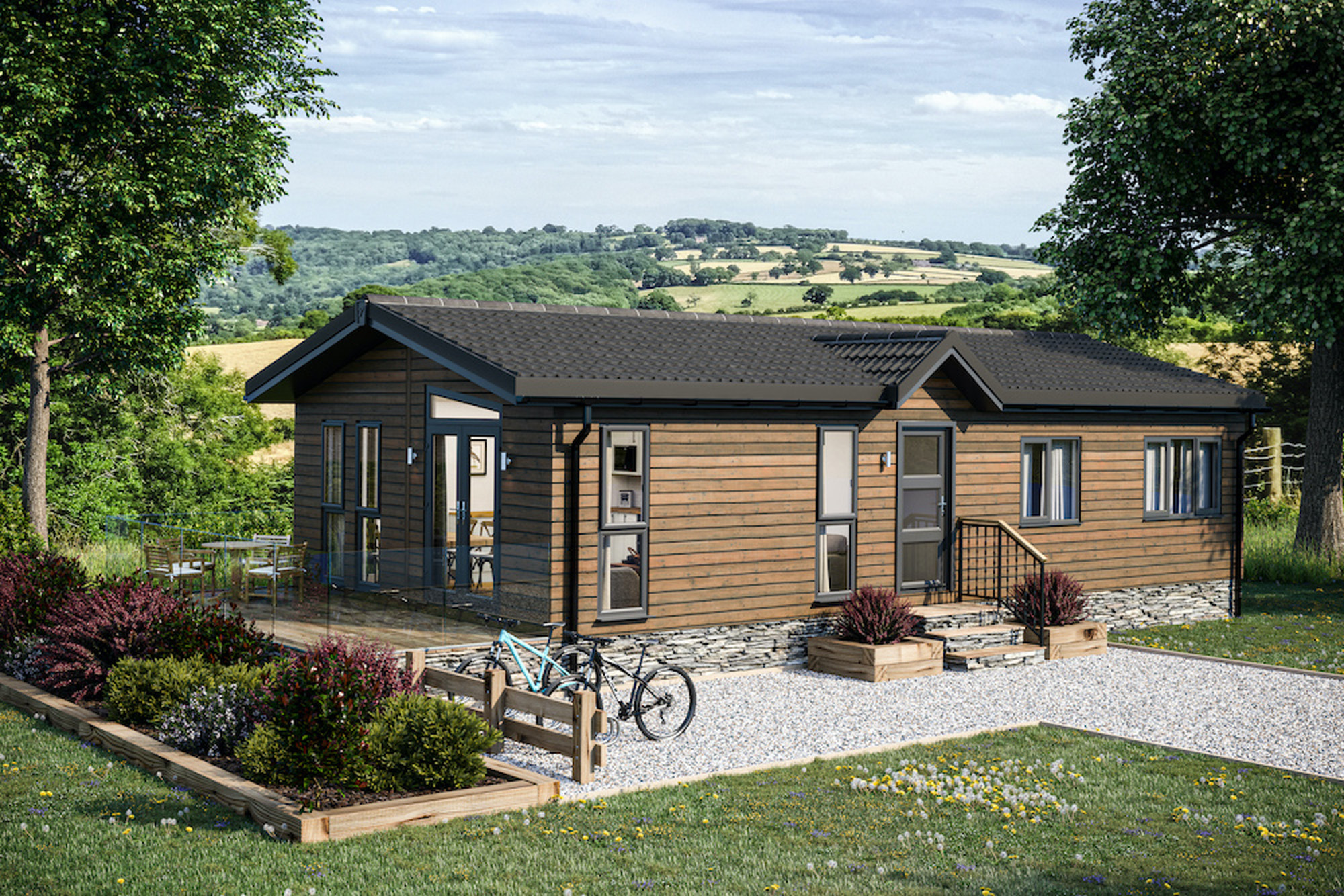 PRE-DELIVERY CHECKLIST
There's a list of things that will need to be arranged by you, the landowner, before your home or lodge's delivery. These are the following:
- Your home needs to sit on a concrete base and we would always recommend that the base is poured and fully cured before the home has arrived. Concrete takes a while to fully harden, your base should have at least 3-4 weeks minimum curing time before the home is sited. We would always recommend getting professional third-party advice for the build-up of your home's base, depending on the ground conditions and the weight of your park home/lodge.
- Amenities will need to be in place for gas/water/electricity and sewage
- Talk to specialised haulage (again we can provide you with suggestions) or alternatively, you can let us handle this for you. Either way, the chosen transport company will provide a quote for delivery from our manufacturing plant in Wellingborough to your desired destination.
- Alongside the haulage company, we will give you advice on any further works that need to be carried out to provide the best access for your home/lodge such as; removal of fencing, cutting back hedges, asking your neighbours to kindly move their vehicles or belongings.
- Blocks/slabs may be required for siting, these will need to be on-site ready.
If you have concerns about access in any way, we can arrange an advance site survey as it's in all our interests to ensure the safe and smooth delivery of your home or lodge.
PLANNING PERMISSION AND LEGALITIES
In the modern planning system, the application phase is where key issues are expected to be resolved, as far as possible. We always recommend seeking planning permission for your own land, whether this falls under:
- Planning permission for a mobile home/caravan
- Change of use of your land
- Certificate of lawfulness
If you are comfortable handling this yourself that's great, you will need to talk to your local planning authority regarding gaining a licence to site. If you're unsure we can help you, give us a call or arrange a meeting and we can work together.
COMMISSIONING YOUR PARK HOME/LODGE 
Once the property has been delivered and the siting team have sited your new glorious home or lodge, it will need to be commissioned to the mains gas/water/electricity and sewage. This again is something we can organise on your behalf if you do not know of anyone qualified to carry out the commissioning of your home/lodge. Get in touch with us if you would like further details about this.
EXTERIOR LANDSCAPING (STEPS, SKIRTS, RAMPS ETC)
You'll require a builder to return and construct any steps/ramps/decking/patios/landscaping to the exterior of your home. Some preparation for this can be done in advance, like ordering the required materials but most of the work will need to be carried out when the home is sited on your plot.
POST DELIVERY INSPECTION (PDI)
Following the delivery of your new home or lodge and after the services have been commissioned, we shall arrange for our engineers to visit the site to finish off the internal siting (PDI). We aim for this to be completed between 7-10 working days after delivery. We want to make sure that you have the home of your dreams with the finishing you would expect from a factory-engineered home hence, this is offered as a free service for you.
AFTERCARE AND ENJOYING YOUR HOME
Every park home or lodge we manufacture comes with an insurance-backed Platinum Seal 10-year structural warranty to give you that additional peace of mind.
Everything is covered within the home for the first twelve months (except damages that might have occurred during transport or missing items. These are covered for 15 days from dispatch).
After the twelve months, the home is covered structurally for a further year. The remaining eight years of the 10-year Platinum Seal warranty is then cared for by Park Home Assist Insurance Services, this again is a structural-only warranty.
Additionally, we also provide,
- 10-year Mapei maintenance-free render warranty
- 7-year boiler cover (providing annual services are completed)
- 2-year appliance cover
- Post-delivery warranty which covers internal finish, snags, settlement and decoration for the first twelve months.
These warranties will be detailed in your owner's guide, but if you do have any further questions about your warranty please get in touch with our customer care team. Now everything is in place, it's time to relax, enjoy and indulge in your dream Tingdene home. Remember we'll be here whenever you need us.
Subscribe Here!
Difference #86
Building Lifestyles people love
We know you're unlike any other customer. That's the difference with Tingdene, we know you're not just choosing a new home or investment. You've chosen a new way of life.
To learn more about our range of park homes and holiday lodges, enter your email below and we'll keep you updated with relevant;
news
offers
brochures
information about shows and exhibitions