Reasons To Buy A Holiday Lodge
Posted by admin on 23 April 2020 12:00:00
Holiday lodges have become an increasingly popular purchase over the last decade, largely due to the leisure and financial benefits that they can provide. Lodges offer investors, families and couples an opportunity to rent the property out to holiday-seekers as well the freedom to use their lodge for regular breaks in an idyllic location of their choice. But what are the other benefits of buying your own holiday lodge?
Reasons to buy a holiday lodge: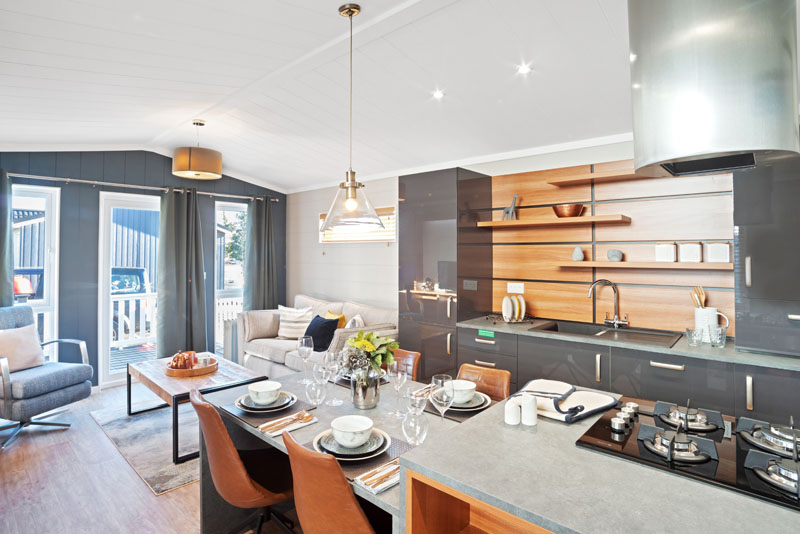 (Discover The Savannah, pictured above)
Simplicity of buying
Purchasing a holiday lodge is normally a pretty straight-forward process. Most holiday lodge manufacturers, like us, will help you with the whole process, offering advice and support from finding a holiday park in your desired location through to transporting and siting the lodge. An added bonus is that our lodges come fully furnished and decorated. Check out our guide to purchasing a holiday lodge for further guidance. Or alternatively, get in touch with our friendly sales team to begin your buying journey!
Additional income
Lodge owners can choose to rent out their property when they're not using it. If you've chosen a lodge and location you love, the chances are that other people will love it too. There are plenty of holiday rental websites available now to advertise your property, making it easier to manage the whole thing yourself. Depending on the holiday park you choose, you could potentially rent out your property throughout any season of the year. Some holiday parks won't allow you to use your lodge as a holiday rental so be sure to look into the park's policies on this. Use our holiday park finder tool to assist you with your search. Or, take a look at our frequently asked questions regarding holiday lodges!
Locations
One of the great things about investing in your own holiday lodge means you can pick a location you love. Across the country, there is an abundance of holiday parks and many are continually expanding. Some parks offer additional peace and tranquillity in remote locations.
A home away from home
Organising a holiday can be a difficult and long-winded process. Trying to balance location, costs, comfort and things to do can be tough. Having your own holiday lodge means you always have somewhere to escape to, providing you're not renting it out at the time. You can skip the price comparison sites as your lodge will always be waiting for you when you fancy a break. An additional bonus is that you know what amenities and extra bits are already at the property meaning you can pack exactly what you need. This sense of familiarity is an attractive attribute for many.
Saving money
This is kind of a given and encompasses everything previously discussed. Owning your own holiday lodge is a far more economical way of taking multiple holidays throughout the year. Having your own lodge can bring two types of wealth to its owners either in the form of financial benefits or its enjoyment. This is of course down to personal preference on how you choose to use your lodge.
To summarise, there's a huge amount of reasons why you should consider buying a holiday lodge. Whether you're an investor or frequent holiday-goer there are numerous benefits, financial and personal that would make it worthwhile. Think you're tempted? Check out our full range of luxury leisure lodges or use our holiday park finder to find your dream location.
Subscribe Here!
Difference #86
Building Lifestyles people love
We know you're unlike any other customer. That's the difference with Tingdene, we know you're not just choosing a new home or investment. You've chosen a new way of life.
To learn more about our range of park homes and holiday lodges, enter your email below and we'll keep you updated with relevant;
news
offers
brochures
information about shows and exhibitions