Sherwood Holiday Lodge Review
Posted by admin on 31 May 2021 12:00:00
Built as a true escape, the Sherwood is the ideal holiday lodge for making long-lasting memories. When you spend time exploring this holiday home, you'll soon understand why it's known as a 'super lodge'. From the stylish and contemporary cedar-clad exterior to the large open-concept living space, you'll be wowed by the inviting and comfortable nature of this stunning home. With four luxurious en-suite double bedrooms, each with its own rainhead shower, this is the perfect holiday lodge for larger families or friendship groups.
General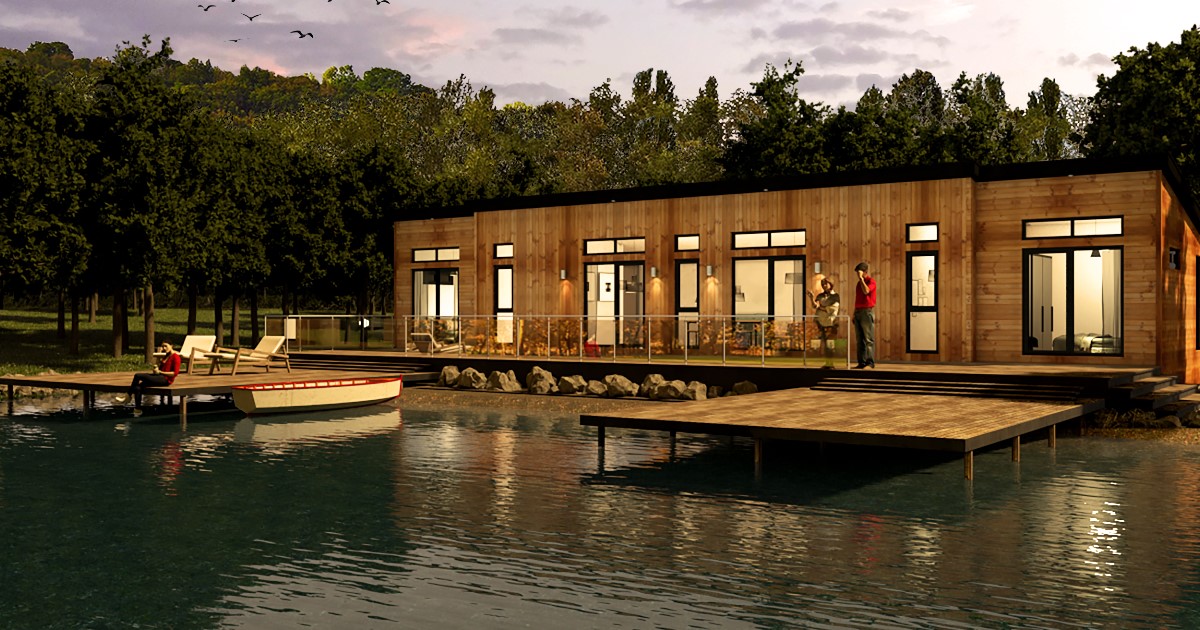 As always, all of our homes are built to BS3632 standards with a 10-year Platinum Seal structural warranty and a 7-year boiler warranty. For the Sherwood in particular, the western red cedar-cladding and mono-pitch roof provide a high-quality look and superior finish that lasts. Easily kick off your boots after an adventurous day in the outdoors and pop them on the welly rack in the porch. Use the multiple patio doors dotted around the home so you can truly enjoy the view from the lodge.
Lounge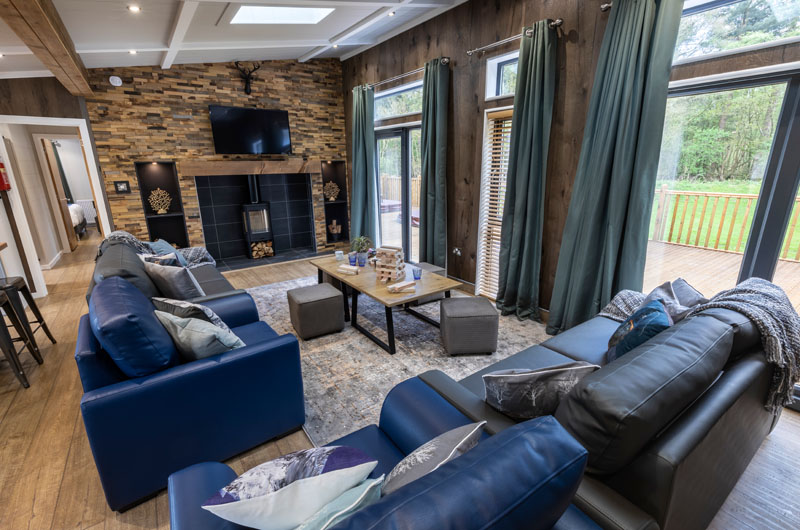 Two skylights above the lounge provide extra light into the heart of the lodge, contributing to the bright and spacious open-plan layout. A gorgeous feature timber wall adds stylish character to the lodge, as well as the feature wall with geometric wallpaper, whilst the rest of the room is covered in a beautiful grey oak effect panelling – the unique character within this lodge is never-ending! Snuggle up in front of the inset fireplace with anthracite tiling on those breezy summer evenings. Or, simply relax and chat with your guests on a selection of three-seater sofas, armchairs or stools by the coffee table – take your pick!
Kitchen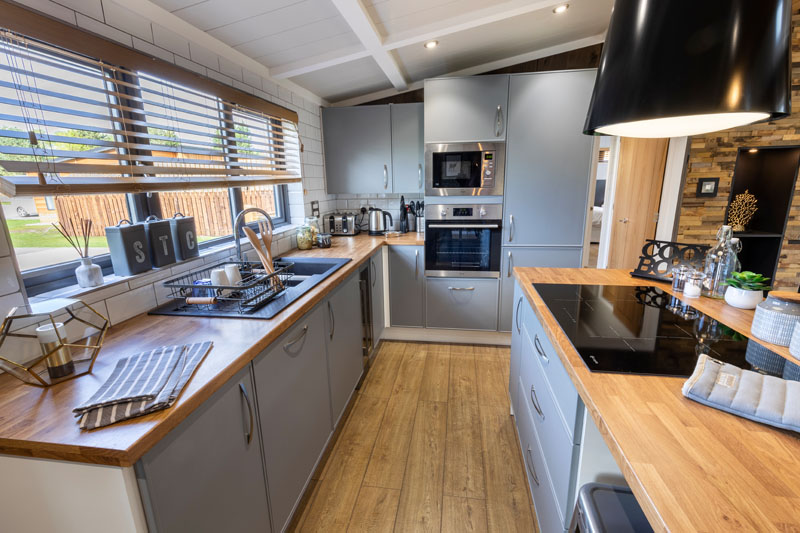 Whilst cooking up your favourite meal, why not crack open a bottle of wine from the integrated wine cooler with your family and friends? Relax around the breakfast bar with four stools and chat the night away! The modern design of the kitchen includes an eye-level single electric oven, integrated microwave, electric four-burner job, integrated fridge/freezer and dishwasher. Perfectly designed for a smooth and convenient experience in the 'stomach' of the home! An open-plan layout has allowed for a friendly, spacious environment that encourages easy movement from hanging out at the breakfast bar to eating in the dining area.
Dining Area
Let's delve into the luxurious dining room, another communal area for your family and friends to gather and enjoy yummy food together! The gorgeous dining table with four chairs and a bench should be more than enough space and comfort for everyone to delight in. The grey/brown oak laminate flooring throughout the home gives the lodge a grand aesthetic, and the water-resistant aspect is particularly handy in the kitchen/dining areas where spillages are more prone. No need to worry about buckled, warped or discoloured floors!
Bedrooms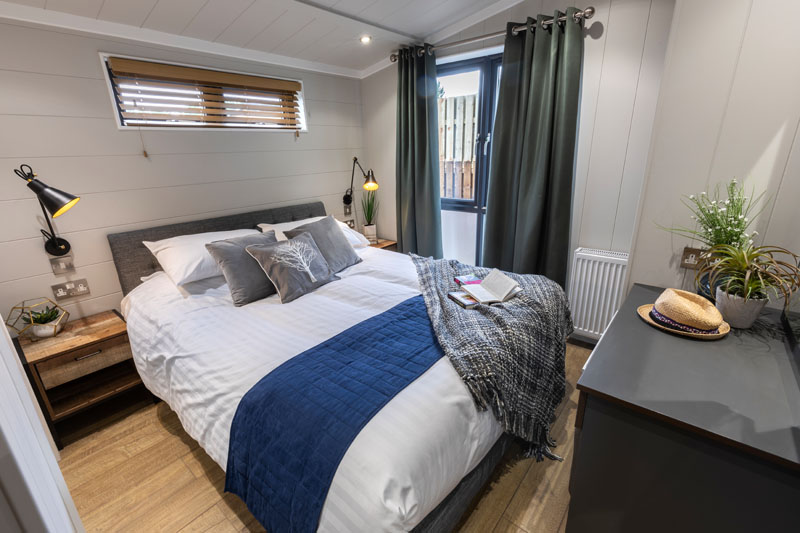 You can ensure all of your guests a comfortable stay in the Sherwood as all bedrooms have their very own en-suite bathroom with rainhead shower. Each room has a dressing table and stool for easily getting yourself prepped for your fun-filled day in the outdoors. Appreciate the two freestanding bedside tables to hold your belongings such as a glass of refreshing water after your adventures or your reading glasses for relaxing in bed with a book before sleep.
What Next?
If our 'super lodge', the Sherwood, has intrigued you, get in touch with us by contacting our friendly sales advisors for more information. If you'd like to further explore our collection of holiday lodges, download our brochure for more details. Alternatively, we also have a beautiful collection of residential models for a more permanent dream home in your perfect location…discover on our website today. We're happy to help!
Subscribe Here!
Difference #86
Building Lifestyles people love
We know you're unlike any other customer. That's the difference with Tingdene, we know you're not just choosing a new home or investment. You've chosen a new way of life.
To learn more about our range of park homes and holiday lodges, enter your email below and we'll keep you updated with relevant;
news
offers
brochures
information about shows and exhibitions